WDM Solution for 5G Passive Network
Author :admin
Release time :2022-04-08
Clicks :
---
The construction of 5G bearer network has attracted extensive attention. As a part of the bearer network, the selection of relevant technical schemes will be closely related to the operator's investment, construction efficiency and maintenance management.
5G wireless network deployment mainly includes two scenarios: distributed wireless access network (D-RAN) and centralized wireless access network (C-RAN). C-RAN can be divided into two modes: C-RAN small concentration and C-RAN large concentration. C-RAN centralization generally requires to centralized deploy the centralized unit (CU) cloud and distributed unit (DU) pool. The D-RAN scenario is relatively simple. The active antenna unit (AAU) and DU are generally deployed on and under the tower respectively. The pull-up distance corresponding to the c-ran scenario is usually within 10 km.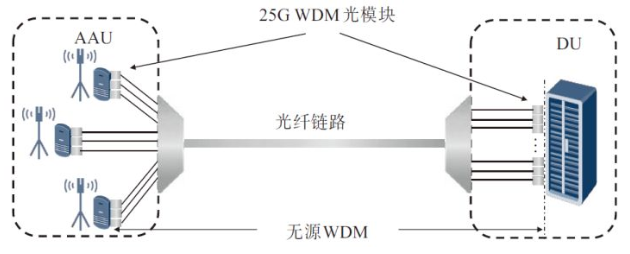 5G pre-transmission network mainly accomplish the signal transmission from AAU to DDU. The centralized C-RAN architecture puts forward new requirements for 5G preamble network. Wavelength division multiplexing has become the preferred scheme of preamble network, and there are many WDM network architectures such as passive WDM, active WDM and semi-active WDM.
HTD can provide professional and high-quality passive WDM products with high reliability, small volume equipments, easy to install and use.
Applicable to the following scenarios:
1. The area between BBU and RRU station, and the distance is more than 1km;
2. Area of scarcing of optical fiber source, there are no pipeline resources and no optical fibers that could be laid;
3. When the construction period is greatly limited, it can be used as an emergency plan to temporarily solve the optical fiber problem.
Contact sales@htdfiber.com freely.