What are the differences and connections between 25G/50G/100G technologies?(3)
Author :admin
Release time :2022-07-28
Clicks :
---
What is the relevance of 25G/50G/100G?
At present, 25G/50G/100G are widely used in cloud data centers, and the three together can achieve 10G-25G-50G-100G network upgrade. Before the emergence of 25G and 50G, 100G network upgrade was implemented by 10G-40G-100G, but this method is inefficient and expensive.
By contrast, 25G is the most cost-effective solution to upgrade to 100G. If 25G is used for 100G network upgrade, the ridge blade architecture can be implemented through 4*25G or 2*50G SerDes channels. In this way, 25G can achieve network upgrade based on the existing cabling infrastructure with its compatibility, providing higher transmission efficiency and performance, and at the same time, Savings in capital expenditure (CAPEX) and operating costs (OPEX).
In summary, the 25G-50G-100G network upgrade path reduces the cost per unit of bandwidth by taking full advantage of switch port capabilities, while laying the foundation for 200G and 400G network upgrades.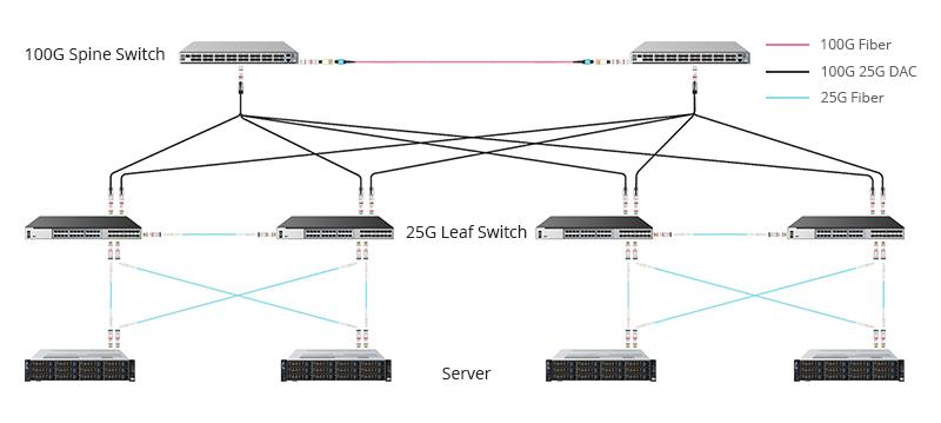 It can be seen from the above that 25G/50G/100G can well adapt to the market demand and lead the industry trend. Compared to the earlier 10G/40G, 25G/50G/100G adopts advanced technology, has certain advantages in cost and performance, and is undoubtedly the most cost-effective solution at present.